If you've ever used a laptop bag or a pouch with a zipper, then the chances are you've noticed the big YKK mark that stamps the clasp.
However, YKK has nothing at all to do with the brand of the bag you've purchased.
So why is YKK on every zipper?
Here is your go-to resource for everything you could ever want to know about YKK and how it's become the absolute leader of the zipper industry around the world. 
What Does YKK Stand for?
The YKK that you see on almost all zipper clasps actually stands for the company that makes the zippers.
That company is Yoshida Kogyo Kabushikikaisha.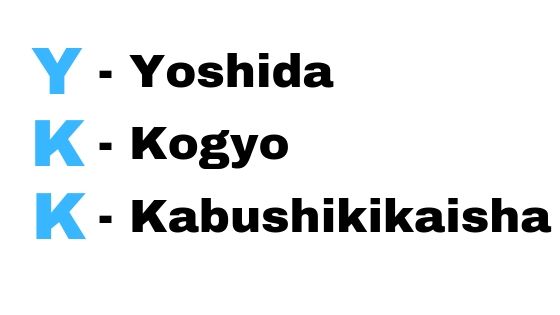 While this company was founded in Japan, it can now be found in over 52 different countries around the world with over 206 different facilities which make not only the zippers themselves, but even the machines that make the zippers.
In fact, they currently make around 90% of all the world's zippers making them one of the most successful businesses in history and giving them a massive step up on all intending competitors. 
So Why is YKK on every zipper?
Because they are the market leader of the zippers and dominates it.
A monopoly is when a company or a group of companies has complete and total domination and control of a particular good or service that makes it nearly impossible for new producers to enter the market place and expect any sort of success.  
By that definition, YKK is most certainly a monopoly. At this current moment, the company is responsible for around 90% of all zippers and fastener production around the world and can be found on everything from pants to laptop cases. 
However, their success is not unwarranted. 
This company has been providing high-quality fasteners since it was founded and has maintained an acceptable price that would make it extremely difficult for any other business to compete with them. 
The Humble Story of YKK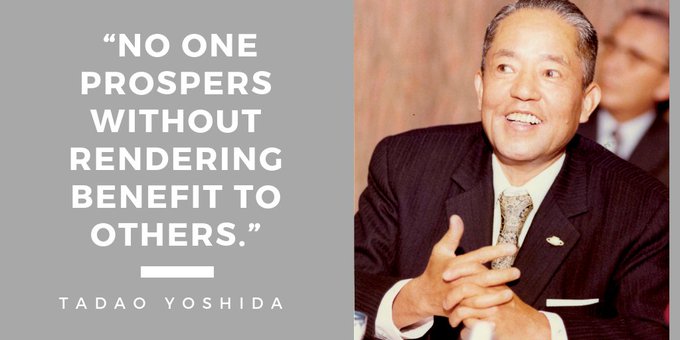 The company YKK was founded in 1934 by Tadao Yoshida, a 24-year-old who became fascinated with zippers and all they could accomplish.
He opened his first business in Higashi Nihonbashi, Tokyo where he began manufacturing and marketing fasteners that could work for a number of different products. 
Unfortunately, the business's initial success was put on hold by the start of World War II, but they quickly recovered and were even recognized as limited cooperation in 1942. 
However, at this time they were still making each and every one of their zippers by hand, which resulted in a lack of consistency and slower production rate.
But this all changed in 1950 when they purchased an automated zipper machine from the U.S. which allowed them to compete with foreign companies on a much larger scale. 
In 1959, the company opened its first overseas location in New Zealand which was quickly followed by the opening of the New York City office in 1960 which opened up a whole new global market for them to take advantage of. 
In 1966, the company created what would become one of their most successful products, the YZip. This was a zipper that had the strength and durability to work perfectly with any pair of jeans. 
From that point forward, YKK continued expanding its business around the world opening offices and facilities from Brazil to Madagascar and even Montreal.
Nowadays, this company has reached complete global domination and is considered the undisputed leader of the fastening industry. 
Why Do So Many Designers Use Them?
While Tadao Yoshida certainly didn't invent the zipper, YKK has certainly perfected it.
In fact, their zippers are so reliable and secure that designers and brands worldwide consider them to be the go-to fastener company that they trust for all their products and creations. 
In addition to being some of the most reliable, they're also some of the most creative, coming in a wide range of different colors, sizes, and designs.
What Are Some of YKK Products?
The Everbright
Probably one of their most popular products, the Everbright is a zipper fastener that's been made with a copper alloy that's been polished with a glossy polishing process and then finally finished with a rust-proofing treatment and a clear coating.
This means that the zipper maintains the beautiful natural shine of the metal itself while also ensuring that it maintains its high quality for years to come.
This particular zipper can be used on clothing and is also widely popular for bag and laptop case creators. 
The Excella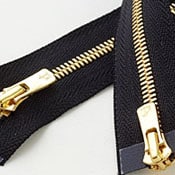 This is high quality and smooth zipper that's been extremely popular with luxury brands around the world for its incredible shine and the wide range of elemental color options it comes in.
If you're hoping to create a high-end laptop case that professionals will use in every setting, rest assured knowing that this zipper fastener will be the perfect addition to give your case that idyllic finish. 
The Excella Light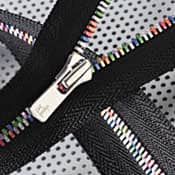 If you're looking for the style and class of the Excella without the heavy feel of the metal, then the Excella Light will be your dream solution.
This zipper is made with an aluminum alloy and so it is incredibly lightweight and comes with an extensive variety of color options for you to choose from. 
The Symmetric Fastener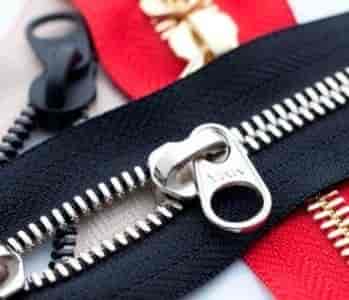 This zipper has been designed specifically with bags in mind.
This means that it's easily maneuverable and works perfectly when pulled in either direction, helping ensure that bag owners feel secure with your product.
Additionally, this particular zipper comes in many different elemental colors including antique gold and black dye so that you can be sure it will match perfectly with the laptop case you're hoping to design.
How About Other Zipper Manufacturers?
While YKK certainly has dominance over the global fastener market, that doesn't mean they are complete without competition.
One of their biggest rivals in the zipper market is SBS Zipper, a Chinese manufacturer that has taken advantage of the newly popular plastic fastener buzz while also developing metal zippers, as well as buttons. 
However, in terms of size and production, this company still works on a much smaller scale when compared to YKK as they currently only have five production bases, all of which are located within China. 
Zippers and fasteners are an incredibly important part of almost every article of clothing and accessory used around the world.
Take this information and make sure you know the history of what you're using and why it's so important whenever you open and close your laptop case.