Disclaimer: Some of the links below are affiliate links, meaning, at no additional cost to you, I will earn a commission if you click through and make a purchase. – Thank you!
You're almost completely set for your vacation abroad.
There's just one question nagging you- should you carry your laptop or not?
Some of your friends may recommend that you leave it because of the risk of theft, not to mention, the extra baggage. 
While this is the safest option, there are instances where you cannot leave your laptop behind.
If you're traveling for business or have a career that requires you to be glued to your laptop round-the-clock, leaving it is not an option. 
So how can you keep your laptop safe when traveling abroad?
And what are the dos and don'ts for traveling with a laptop internationally? 
Read on to learn more.
Preparation Before Traveling With A Laptop Internationally
Before you head to the airport, there are a couple of things you should do to make your laptop secure. 
1. Create a Backup
Create a backup for all your vital documents to prevent loss or theft. Make copies or transfer these files to external USB drives.
If you expect to use the information that you store, overseas, then keep the disks in a separate compartment from the laptop. 
2. Encrypt the Files
Encrypt the files you save on your laptop and USB drives. This will ensure that no other person can access them without authorization. 
3. Data Housekeeping
Keep your machine clean. If you were to lose your laptop, it's unlikely that anyone would exploit the data on it.
But do you want to take even the slightest chance? 
To be on the safe side, consider erasing all sensitive information- from online banking details to passwords for your work-related accounts and more.
4. Back Up to Cloud Storage
It's also advisable that you save your files on an online data storage platform or a cloud-based solution.
Google Drive, Microsoft, Dropbox, and Amazon all offer online storage avenues. If you choose to back up in the cloud, some of the best solutions are IDrive, iCloud, and Zoolz. 
5. Disable the File-Sharing
Disable file and printer sharing. One thing that people fail to understand is that network shares pose a risk when you're traveling, regardless of whether you're connected to a WiFi network or not.
Since file-sharing services advertise your existence, turning these services on draws network users' to your computer. 
6. Setup the Firewall
Set up a firewall to prevent inbound connections. If you have a Windows laptop, configuring your firewall is pretty easy.
Simply look for this program using Search for Programs. Once you're able to access the Firewall settings window, select On and choose Ok.
7. Get the Protection Plan
Many travelers ignore to get laptop insurance protection when traveling abroad. We hope that you won't use the plan but once your expensive laptop like MacBook Pro damaged, it will ruin your day.
A laptop protection plan like this is probably good enough but make sure to check the term and conditions carefully.
Airline Rules for Carrying Laptops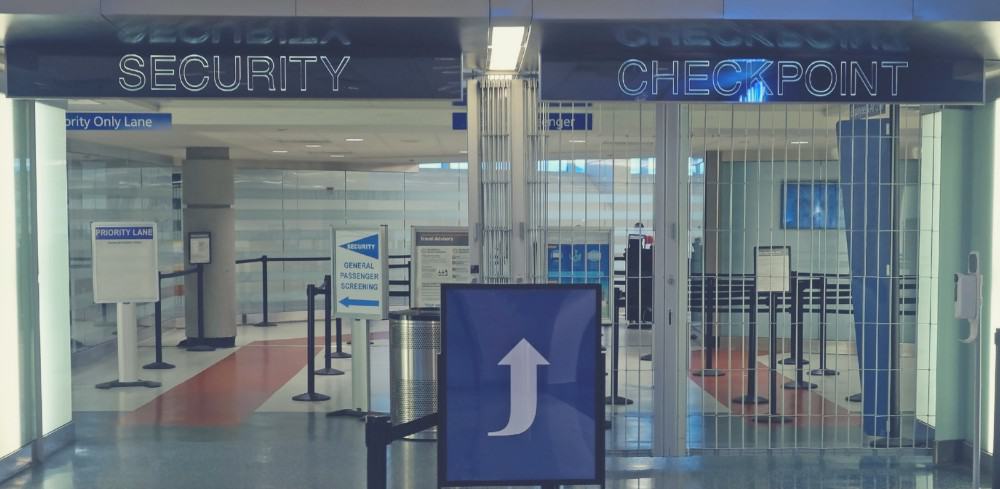 Use TSA-friendly Laptop Bags
If you don't want to be delayed for your flight because the screening process is taking longer than you thought it would consider investing in checkpoint-friendly laptop backpacks.
The main benefit of these carriers is that they comply with the guidelines stipulated by the TSA namely:
Have distinct laptop-only sections
Can lie flat on scanners
Don't come with snaps, zippers or buckles 
Have no pockets on the inside or outside of the laptop-only section
Don't have additional accessories in the laptop-only section
Ideally, the TSA does not endorse any particular brand of laptop bags. However, you can make inquiries regarding the specific bag styles that are approved.
With a TSA-compliant backpack, no one is going to ask you to remove the laptop from the bag, and this saves you time.
You can read more about the TSA checkpoint-friendly bags article here.
 Going Through Security
In the event that you're carrying a checkpoint-unfriendly bag, then you're required to remove the laptop from the bag for screening.
This is necessary to provide an unobstructed view of the laptop. 
There's also a high chance that you'll be asked to turn on your laptop or answer a couple of questions regarding your machine.
If you're unable to answer or give the wrong responses, the airport security crew has a right to impound your laptop.
On the other hand, answering truthfully helps to expedite this evaluation procedure. 
Apart from using TSA-compliant laptop backpacks, it's also a good idea to put your name and address on the laptop.
This eases identification in instances where there are multiple laptops being screened at once or in the event that you have to go through more inspections. 
In-Flight Dos and Don'ts
One of the rules for bringing your laptop onboard is to keep it turned off during take-off.
As Skyscanner explains, laptops, smartphones, and other electronic devices transmit radio signals that can disrupt the electronic systems of aviation.
The good news is: you only need to switch it off before the take-off.
Afterward, the flight attendants or pilots will notify you when the aircraft reaches cruising altitude; hence giving you the green light to start using your laptop. 
Power and Connectivity
When traveling abroad with your laptop, one of the things you need to consider is the source of power.
The last thing you want to do is realize that you cannot use your laptop because your adapter is not compatible with the mains. 
To avoid such a scenario, you might want to invest in a universal adapter. As the name suggests, this gadget will work with the mains of whichever country you travel to. 
It's also advisable to carry a power surge protector. Some countries experience a lot of fluctuations in electricity.
This creates the risk of your laptop getting fried, or worse, being rendered completely useless. 
Thankfully, you can get quality universal adapters, some of which come with built-in surge protectors.
Conclusion
Whether you're traveling overseas for work-related reasons or not, carrying your laptop can come in handy. You can keep in touch with your family and friends, and also get some work done.
But before you book your flight, there are a couple of things you should do. One, you should prepare your laptop for the long trip ahead.
To achieve this, create secondary storage for your data. You can use online storage platforms like Google Drive or save in cloud-based solutions. 
Secondly, go through the TSA guidelines for traveling with a laptop internationally. By adhering to the stipulated rules, you'll have a quick and painless screening at the airport security.
Also, consider the country you're traveling to and their power sources. 
To avoid inconvenience due to incompatibility issues, bring your own universal adapter and surge protector.
Related posts: