Disclosure: I mention some products that I'm an affiliate for is this post. If you buy via my link, then I get a commission — thank you!
Traveling is one of the little pleasures of life. But, if you have used air travel, then you know that baggage claim can be a tedious task.
It is even more harrowing when you have to wait at the luggage carousel, sifting through bags and suitcases that all look like yours. 
Sure, an essential piece of advice would be to ditch the black suitcases, seeing as everyone travels with one of those. But, is there more that you could do?
Well, if you have been wondering how to make your luggage stand out at the airport, then you are going to love these tips.
Some won't even require you to get rid of that black suitcase that you love so dearly.
Here are some cool tips to help make sure that you don't lose your luggage during your next flight.
How to Make Your Luggage Stand Out
1. Try out a bold color
Sure, you don't particularly enjoy yellow suitcases. But wouldn't it be lovely if you could only spend only a few minutes looking for your bags?
It seems to be an unwritten rule in the traveler's guide that everyone should carry luggage that is black, brown, grey, or some other neutral color.
If you have fallen victim to this, you've probably thought you had your bags, only to realize you had the wrong ones.
So, why don't you try a different color?
Think about this. It will be quite easy to spot your yellow or purple duffel in a sea of grey and navy blue bags.
Therefore, the next time you are shopping for suitcases, perhaps you should take some time to explore the variety of available colors.
Need some inspiration?
Take a look at this one and also this.
2. Use a colorful ribbon or scarf
If you absolutely cannot ditch the plain-looking bags, then you can use a brightly-colored ribbon or scarf.
Be sure to choose a color that's different from that of the luggage and that you can spot easily.
You could, for example, go for a lime scarf and tie it to your suitcase's handle.
That should help you spot your bags on the carousel immediately and save you the time to keep checking whether you've got the right ones or not. 
3. Go wild with the luggage tags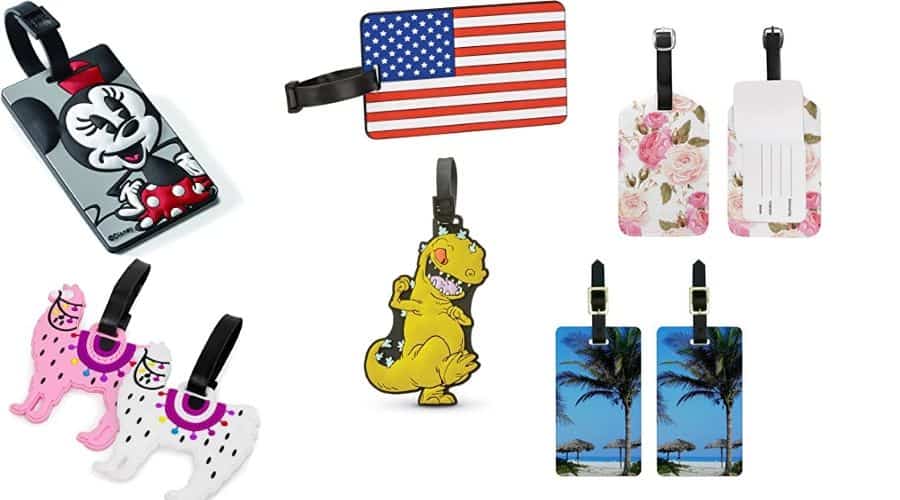 Choosing a flashy looking color for your luggage bag is not everyone's piece of cake. An excellent compromise would be to do so for the luggage tag. 
The luggage tag will contain your name, address, and phone number to make it easier for anyone to find you, should you misplace your bags.
The label could help you spot your bags if you choose something eye-catching. 
Excellent examples include patterned and floral tags. Click here to find out the awesome luggage tags.
Luckily, getting a luggage tag isn't tricky, and you can even find a suitable one as a souvenir during your trip.
You can also decide to make your own, just as long as you ensure it stands out.
4. Use a luggage belt for your suitcase
Luggage belts, just like luggage tags, can serve two purposes.
On one hand, you can choose a colorful luggage belt or one that comes with a unique pattern to help you spot your bags quicker. 
On the other, securing your suitcases with a luggage belt will help compress the items in your suitcase. 
If you often find yourself overpacking for any trip, then you will appreciate these accessories.
The best part is that they are budget-friendly, so you won't break your bank account when purchasing one.
Click here to see our recommendation.
5. How about some stickers?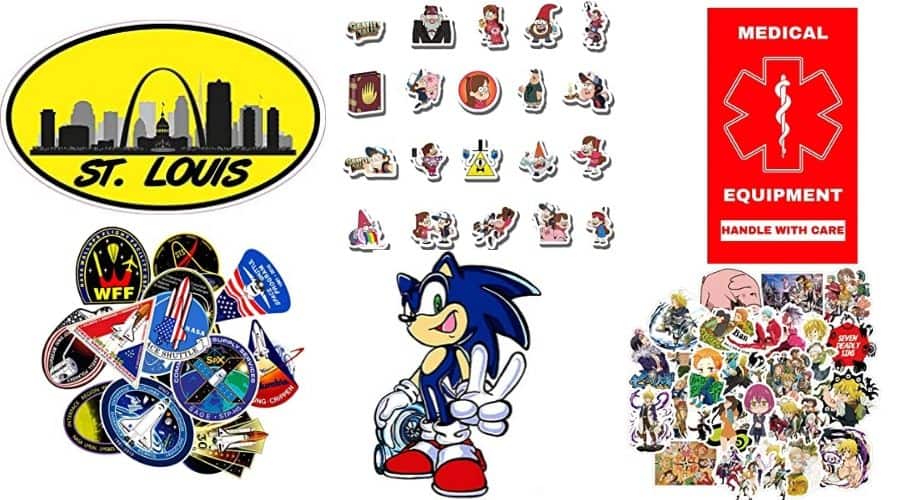 You've probably used some stickers, perhaps for some art project, at one point in your life. Well, if you love the retro style, you could use some stickers to mark your bags. 
The best thing about stickers is that you can use them to show off all the places that you have visited.
Besides, you can get labels for just about anything, be they cartoons, places, books, art, or whatever you like. 
Why not make it your mission to buy a sticker every time you go to a new place and stick it your luggage.
As a precautionary measure, only use stickers on luggage with hard surfaces as they can peel off fabric in some cases.
6. Get artsy with your DIY kit
Making your luggage stand out should not be a challenge is you love DIY projects. Just grab your DIY kit and get to it. 
If you decide to go with the artistic flair, you are spoilt for choice. You can decide to use embroidery, paint, different types and colors of fabric, glitter, or just about anything you wish. 
You could even stitch your name or initials on your bags if you don't mind.
Your DIY kit will let you use whatever patterns and shapes you deem fit, so this should be an exciting option for anyone with an artist's eye. 
7. Duct-tape your bags
You probably have some duct tape lying around somewhere in the house. So, why not use it to make your luggage unique. 
Just like your art kit, using duct tape leaves you a range of choices. You can use different decorative tapes and make a pattern that will be hard to miss. 
Perhaps you could try using different kinds of duct tape at the same time. 
How about using some caution tape?
 Surely, no one will mistake that for theirs. 
8. Use handle grips and other accessories
Besides identifying your luggage at the carousel, getting around the airport with tons of luggage is also an extreme sport. 
So, why don't you achieve two goals by using hand grips on your bags? 
You should choose something colorful that will stand out or one that has a unique pattern.
This way, holding on to your luggage becomes easier, and your bags will be easier to spot at the baggage claim.
Other than handle grips, you can choose to attach additional accessories to your luggage handles.
Zip ties, bungee cords, and carabiners are excellent choices of what you can connect to your zipper ends as accessories. 
9. Use a tracker
Every tech nerd is going to love this option. If you are willing to splash some money on this, perhaps a tracker would be the best way to go. 
A tracker comes with some significant benefits. For starters, using both a tracking device and a mobile app helps you keep track of the luggage, even if it is not in sight. 
Once the luggage is in range, the device will start beeping. When not in the field, you can locate it on a map on your phone. 
Also, using a tracker will come in handy in letting you know if it is on the right flight.
In case of anything, you can deal with the matter immediately and avoid further inconvenience.
A tracker like this one can be useful to track the misplace or your incoming luggage on conveyor within a few distances.
So, What's Your Favorite Tip?
Well, there you are! 
If you have ever lost your luggage at an airport, then you will appreciate these nine cool steps.
Most of them won't cost you much and end up saving you loads of time at luggage claim. 
So, go ahead and choose one method that suits you best and make your luggage stand out from the endless sea of black and grey suitcases on the luggage carousel. 
Claiming your luggage won't be so tedious after trying out any of these methods.
Related posts: