Nowadays, I think we all agree that many people love to carry their beloved laptops for work,  school, and traveling.
It's no doubt that a laptop is a portable device that so convenient to use anywhere we want.
However, do you know how to wear a laptop bag the right way?
Unfortunately, not many of us never realize that wearing a laptop bag the wrong way puts pressure on your spinal, neck, and back pain which results in the potential diseases in an extended period.
We love to bring along power chords, few books, personal belonging, and a bottle of water in our laptop bag whether it is a backpack bag or messenger bag.
These pieces of stuff add extra weight to the laptop bag that you carry.
In this post, you find out how to carry your laptop bag properly without compromising your style and spinal health.
4 Common Types of Laptop Bags
Before I discuss further on how you should wear a laptop bag, there are four different types of laptop bags available out there.
Laptop Messenger Bags and Backpacks
Today, laptop messenger bags and backpacks are very popular, trendy, and appealing to all levels of people whether they are students, travelers, hikers, or businessperson.
Both types of bags are suitable for all sexes and all ages.
The standard features of these types of bags are: a laptop messenger bag has a single strap means to be worn across the body while a laptop backpack has a double strap means to be carried on both shoulders.
Handbags and Laptop Totes
Handbags and laptop totes are designed toward women who want a stylish laptop bag to represent their image and personality.
These types of bags are used to carry a small laptop and tablet.
Many women like to take their devices into handbags or laptop tote because it is so convenient to bring to work, special occasions, or even traveling.
Most handbags and laptop totes in the market have both handle flap and shoulder strap. So if you're a woman, you have a choice the carry it in any style you want.
Laptop Sleeves and Covers
Laptop sleeves and covers are also used as laptop bags that you can carry like a backpack or any bags that I have mentioned above.
It is a simple and cheap alternative that able to provide sufficient protection for your laptop. Choosing the right size of the laptop sleeve is vital so that your laptop can snug fit in.
Laptop sleeves don't have any strap or handle flap, so you have to hold the laptop bag all the time. Another option is to put your laptop sleeve into the backpack or laptop tote.
Business Style Laptop Cases and Briefcases
Laptop cases and briefcases are examples of the classic style of a laptop bag.
They still exist and more appealing towards businessmen and also to those who are fancy of this style of bag.
There are many options for business style laptop cases and briefcases out there.
You can choose large bags versus slim bags or wheeled laptop cases versus non-wheeled laptop cases.
How to Wear a Laptop Bag?
The way on how you wear your laptop bag depends on which type of laptop bag do you buy.
In this post, I will focus on two different types of a laptop: Laptop Messenger Bags and Backpacks, and Handbags and Laptop Totes.
Essentially there are two ways of carrying your laptop bag which I will explain below:
Way #1: Carrying a laptop bag on one shoulder
The laptop bags like messenger bags and tote bags essentially have a single adjustable strap that you can wear it on your one shoulder.
The advantage of this way of carrying your laptop is that you can easily remove it off of your shoulder and put it on back.
Handbag or tote laptop bag
Choose the strap size wide enough. You want the strap to stay nicely on the shoulder.
The best way to carry a handbag or tote laptop bag on one shoulder is to consistently adjust the strap until your hand can easily hold the bottom of the bag or holding the handle flap (if you prefer). 
This reason for this is to prevent your strap from slipping off your shoulder and to control the bag from overswing (bumping) into you.
Messenger Laptop Bag
The best way to carry a messenger laptop bag is across your body because it provides better weight distribution than when worn on one shoulder.
When you wear a messenger bag across your body, you're almost hands-free.
Unlike the tote laptop bag which tends to slip off your shoulder, carrying a messenger laptop bag across your shoulder can stay securely into its position.
It is also convenient that you can reach your laptop by just swinging it from the back to the front of you.
Risks of carrying a laptop bag on one shoulder
No matter which bags do you have and if you carry it on one shoulder, there are few risks you need to consider.
Security: It is so easy for a thief to snatch the laptop bag when putting on one shoulder. However, it is difficult for a thief to snatch your bag when you wear it across your body.

Spines Pain: Carrying the bag on one shoulder might look cool and stylish, but when you take this way for a prolonged time, it causes the spine to a curve which eventually leads to muscular, neck, back, and hip pain. It is terrible for your body posture.
Way #2: Carrying a laptop bag on Both shoulders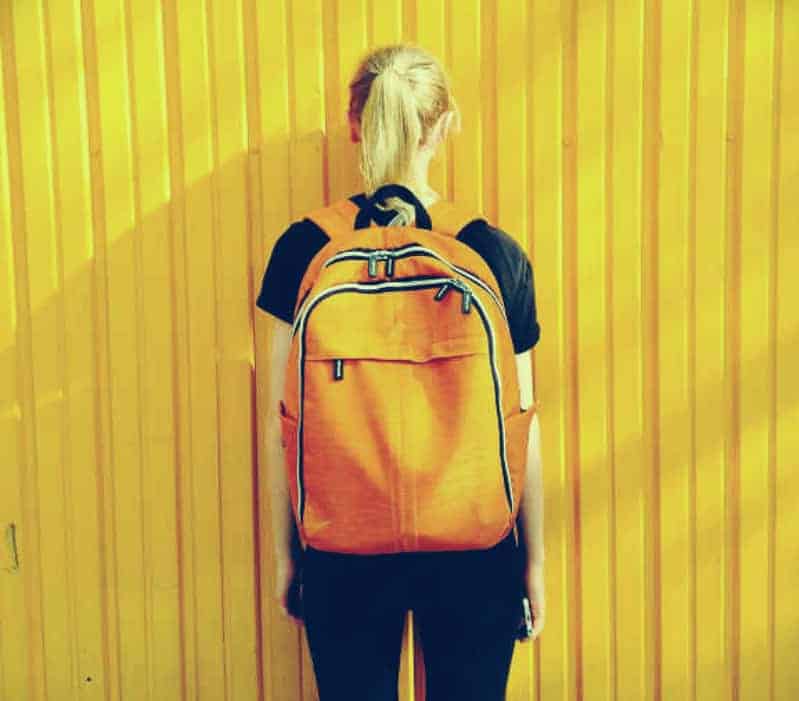 The best type of laptop bag that can put on both shoulders is a laptop backpack simply because it is best at distributing the weight evenly on your body.
Essentially a laptop backpack has two adjustable straps. You need to adjust both straps so that the position of the top laptop backpack should be at the same level as the bottom part of your neck.
Adjust the straps, so the laptop bag is close to your body as possible but doesn't too tight is to maintain your posture and balance during movement.
Bear in mind that never carry a laptop bag too low at the back because the weight can pull on your shoulders.
If the laptop backpack bag is a position too low, the weight of the bag can cause a forward head posture.
This can lead to neck and shoulder pain as well as making it difficult for muscles to hold the body up.
It also causes many problems to your lower back as well because by leaning forward there is a changing of body posture to compensate for the weight of the backpack.
Conclusion
For me, the best method when it comes to how to wear a laptop bag the right way is by carrying a laptop bag on both shoulders.
So, a laptop backpack is always healthier than any laptop bag that needs to carry on one shoulder.
Try to limit the weight of the bag to 15% fit-out of your total body weight.
Always keep the laptop into the laptop compartment because this compartment is closer to your back for weight distribution and it helps you prevent from suffering from back pain.
So, which method of carrying a laptop bag works for you?