Do you ever feel stressed about how to protect a laptop in a backpack when traveling? 
The last thing you want to happen when reaching your destination is to find out your laptop damage or has been stolen.
It's definitely spoiled the mood and stressful if this thing happens to you.
From my own experience, I found that the best way to protect my laptop from damage is by keeping it isolated inside the laptop compartment section of the backpack. Never put other stuff like a charger or cables into the same compartment.
Always get a good quality of laptop backpack if money is not an issue for you.
So keep reading to learn the other awesome tips on how to protect laptops in a backpack safely.
Why You Should Protect Your Laptop from Damage & Disaster
Much like most electronics, laptops can be quite fragile.
Given how much laptops can cost to purchase in the first place, you should certainly do your utmost to prevent damaging them in a careless fashion. 
Yet, many people simply aren't careful enough when it comes to protecting their laptop and it seems that bumps, scrapes, stains, and spills are inevitable.   
Considering that most users use their laptops every day, a broken or malfunctioning laptop can quickly become a major inconvenience. 
However, if you act swiftly, there's a chance that the damage could be minimal, or at least alleviated to some degree. 
Unfortunately, getting a laptop repaired can come at quite a high cost.
Charges will likely vary from one laptop to the next, and they will also go up or down depending on how much damage is caused and which repair shop you choose.  
However, you can usually expect to spend between $200 – $500+, which is often greater than the cost of a brand new replacement.
BONUS: How to Protect Laptop in Backpack [Infographic]
If you are keen to learn more about laptop protection, then you should take a look at this handy infographic which comes from the team at Bracken Foam Fabricators. 
This insightful guide provides great tips on how to care for your laptop in the right manner so that you lessen the risk of damaging it. 
There's also some practical information on the questions to ask when getting your laptop insured.

Credit to Breckan Foam Fabricators.
Keep Your Laptop in the Laptop Compartment
You should always keep your laptop in the laptop compartment, not into the other dividers or sections inside the backpack.
Most laptop backpacks are designed to have their own dedicated compartment to properly secure a laptop. It usually located at the back of the backpack for the weight balance.
Do measure your laptop size before you buy a laptop backpack because you want the laptop to nicely fit for better protection.
A well-designed laptop backpack has padded to the sides, top, and bottom of the laptop in the laptop compartment section.
Although the padding foam in the laptop compartment will make your backpack looks bulky, it actually helps to cushioned and protect your laptop from sudden bumps and drops.
For a piece of additional advice, when carrying the bag try to put your laptop position in a bag vertically, so the bulk of the weight is on the bottom of the pack and not the laptop.
Read here on how to wear your laptop bag.
Get a Laptop Sleeve for Extra Protection
Carrying an expensive laptop like a MacBook, you probably want extra protection for your precious device. 
Maybe you're not convincing enough that the laptop backpack alone will protect the laptop.
For this reason, you can definitely get a laptop sleeve to provide an extra layer of protection. 
Just make sure the sleeve has a good padded to prevent the paint/surface of the laptop from scratches as well as providing extra cushion to it.
Put the sleeve with the laptop inside your laptop backpack. Make sure the sleeve can be a snug fit into the laptop compartment nicely.
If you have the MacBook Pro, you may be interested in what is the best backpack for MacBook here.
Invest in Anti Theft Backpack
Pickpockets are common problems in all big cities around the world.
Wherever you go, you should always protect your laptop and other personal belonging in your backpack from thieves. 
They can steal your items in a matter of seconds without you noticing it.
You should invest in an anti-theft backpack to prevent your beloved laptop from being stolen. An anti-theft laptop backpack has a different design than the ordinary backpack.
A good anti-theft backpack has several safety features:
Anti-cut for a thief hard to rip it open quickly with a knife
Hidden zipper and pockets
Extremely slash-resistant material
Anti-theft lock
It is slightly expensive to buy compared to the ordinary backpack but not as expensive as your laptop if get stolen.
Consider Buying a TSA Checkpoint-friendly Backpack for Frequent Travelers
If you're frequent travelers with a traditional backpack, you should familiar the airport security procedure.
Imagine that you have properly organized your laptop and other stuff in your backpack at home, and then you are told by the security officer to remove out your laptop for x-ray screening.
When you put the laptop back into the backpack, the chance of the laptop getting scratch, squeeze into a tight spot or drop is high.
This problem can possibly happen when you're rushing to clear your stuff inside a bin to get out of the line.
Consider buying a TSA checkpoint-friendly laptop bag so that the security officer can scan your laptop without you need to remove your laptop out of the backpack.
Some more, you don't need to waste time to reorganize your laptop in the backpack again.
Pack and Organize Your Stuff in the Backpack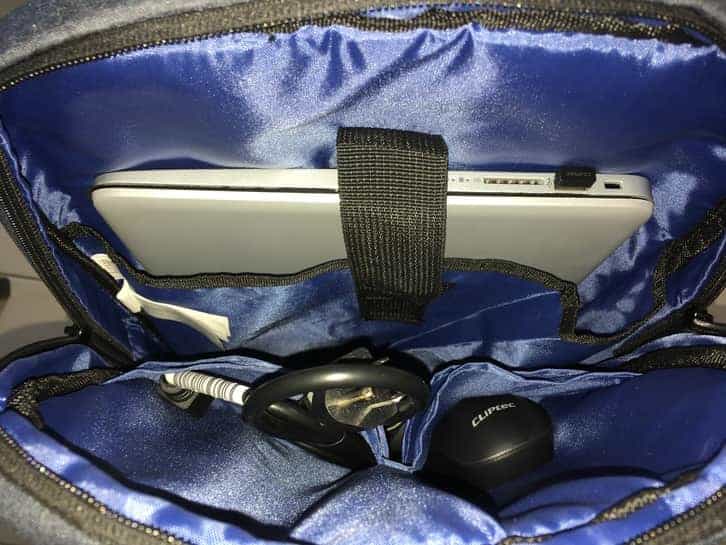 If you traveling with a laptop in the backpack, you need to put all laptop related stuff like power cable, USB cables, adapter, phone, HDMI cables and etc into separate compartments.
You don't want to keep them together with your laptop to prevent it from scratches. 
Get all the cables looped and secured from unwinding by clipping it with a tie or you can tucking one end through the loop. Put them into a small compartment of the backpack.
Hide your valuable item like a smartphone inside the hidden zipper and keep other item stuff like an adapter and chargers into a mesh bag.
If you really need to bring along your water bottle, I don't recommend you to keep it inside the backpack.
If your backpack has an external pocket, you should keep the water bottle there. Keep things minimal, light, and organized.
Protect Your Laptop in Rainy Days
Weather is very unpredictable. If you travel outside or bike commuting during the rainy season, you need to protect your laptop from getting wet.
Once it gets wet, a high chance of your laptop will be damaged.
There are several ways you can do to protect your laptop on a rainy day:
Wear a waterproof laptop backpack
Wrap your backpack with a waterproof rain cover for a backpack
Wrap your laptop with a plastic bag before keeping it into your backpack
The most obvious one is using the umbrella
Make sure your laptop is off when traveling in a rainy season. Learn how to wash your laptop backpack by yourself if it gets dirty.
Wrapping Up
A laptop is probably one of the most valuable devices that you bring along when traveling because it is so vulnerable to get damaged due to bumps, scratches, and wet.
It needs full protection.
Although you know how to protect a laptop in a backpack, there are no guarantees that it will be saved. Bad things can happen at any time.
So, you should always back up your data, photos, files and etc offsite. That's a real loss while you can always replace the faulty laptop with a new one.