Disclosure: Some of the links below are affiliate links, meaning, at no additional cost to you, I will earn a commission if you click through and make a purchase. – Thank you!
Suitcases come in so many different sizes and design that you may feel a little overwhelmed when you first start shopping for them but there are things that you can do to make the task a little easier. 
One of the first things you can do is determine how long you will be away because this will affect the size you end up purchasing every time. 
Luckily, with a few tips, you too can find the best size suitcase for 1 week trip that is perfect for your next vacation or business trip.

Table of Content
What Are the Most Common Sizes of Suitcases?
Suitcases can come in almost any size but most suitcases come in the following sizes. The numbers represent the height of the suitcase, including the wheels.
18" (small cabin suitcase)
20" (large cabin suitcase)
22" (extra-large cabin suitcase)
24" (medium suitcase)
27" (large suitcase)
28" (extra-large suitcase)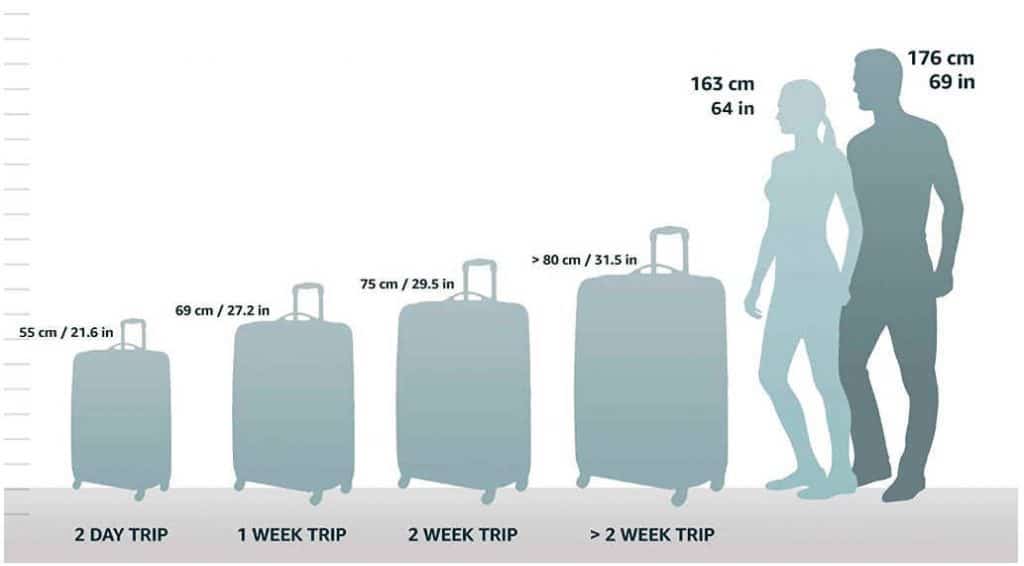 "Cabin" suitcases are considered those that can easily fit into an overhead storage bin in an airplane, which is why they are usually smaller than regular suitcases. 
Are there other heights/sizes besides these? 
Of course, there are, but as a general rule, these are the sizes that most manufacturers use to make their luggage pieces.
Most travel experts recommend that if you're planning to be gone for at least one week, you should purchase a suitcase that is a minimum of 24" high, or a medium suitcase. 
You can go bigger, of course, but 24" should be the minimum to look for.
Hard Vs Soft Shell Suitcases
There are also hard-shell and soft-shell suitcases. 
Contrary to what many people assume, the soft-shell suitcases can usually hold more items than their hard-shell counterparts. 
Why? 
Because the soft-shell suitcases stretch a lot more than the hard-shell ones, which means that it is much easier to squeeze in a few more t-shirts or toiletries without causing any damage to the luggage.
There is also a difference between suitcases that have two wheels as opposed to those with four wheels. 
While suitcases with four-wheel "spinners" are bigger in size, their capacity is usually smaller than the two-wheel suitcases, simply because when the suitcase is measured, it is measured from the ground up. 
Four-wheel spinners are extended out completely while the two-wheel sets are usually recessed, which affects both their size and the capacity of the suitcase itself.

Which Suitcase Works Best: Soft or Hard?
When it comes to suitcases, there are two basic types of materials used: 
Soft-shell type, which usually consists of some type of canvas, polyester, or nylon materials; and
Hard-shell type, which usually consists of some type of hard plastic such as PC or ABS plastic, and sometimes a combination of these two. 
When it comes to deciding which one is best for travel, there are no hard-and-fast rules.
In fact, in most cases, it comes down to someone's personal preferences and tastes.
Soft-Shell Suitcase: Pros and Cons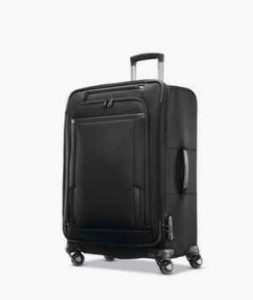 One of the main advantages of a soft-shell suitcase is how easy it is to stuff a lot of things into it! 
Unlike a hard-shell suitcase that offers no flexibility in its design, soft-shell suitcases will bend and expand some so that you can easily pack a few more items inside, which definitely comes in handy when you've done a little more shopping than you'd planned while you were on vacation.
In addition, soft-shell suitcases offer more flexibility when it comes to storing your suitcase in overhead bins or even in the trunk of your vehicle. 
These suitcases can be placed nearly anywhere that you store suitcases and it is easy to store other suitcases underneath or on top of them, making them a convenient type of suitcase to have.
The disadvantage of a soft-shell suitcase is that the items inside are not always as protected as they are with a hard-shell suitcase. 
If you have fragile items that you need to pack, they may not do all that great in a soft-shell suitcase.
Hard-Shell Suitcase: Pros and Cons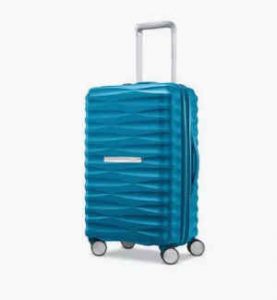 There are two main advantages to choosing a hard-shell suitcase. The first is that the items inside of the suitcase are very well protected even if those items are fragile in nature. 
The second advantage is that they can take a lot of abuse that other suitcases might not be able to take. They can be thrown around, kicked, and tossed and still protect everything inside, making them perfect when you have to fly.
Unfortunately, hard-shell suitcases offer little to no flexibility so if you need to make it fit in an overhead bin, you may not be successful. 
Hard-shell suitcases are made to take up a certain amount of room and no less so if you need flexibility, these are not the suitcases you want.
Quick Comparison:
Soft-Shell
Pros
Made of fabrics that move and yield (nylon, polyester, Cordura)
Come with exterior pockets
Can be flex and compress to fit into tight spaces
Take up less room to store at home 

Cons
Won't provide much protection against impact
Vulnerable to ripping
Hard-Shell
Pros
Made with high-tech plastics such as ABS and polycarbonate
Often features a 50/50-split opening
Better security with integrated locks
Can be stacked easily
Cons
Scratches easily
Slim chance of overstuffing
Too rigid
Hard to squeeze into tight spaces
Things You Should Consider When Buying the Perfect Luggage
Okay, now that we've determined that the size and capacity of the suitcase are two things to consider when shopping for the perfect luggage, let's take a look at a few other aspects of luggage shopping. 
First of all, did you know that the time of year you travel can have a lot to do with the size of your suitcase? 
It's simple to figure out why.
1. Seasonal Recommendations
In the summer months, your clothes are going to be small and lightweight so regardless of which size suitcase you choose, you'll be able to pack larger quantities than you would if you travel during the wintertime.
Let's face it; five t-shirts are always going to be lighter and take up less room than five pullover sweaters so you'll need to take that into consideration when choosing your luggage.
We've already determined that a 24-inch suitcase is the smallest that you should buy if you're looking for the best size suitcase for a week trip but let's break it down further. 
If you're traveling during the summer months, you can possibly get away with a suitcase that is 21" to 22" in size but for winter travel, the 24" to 25" suitcases should remain your minimum size. 
So once again, keep that 24" number in mind when looking for suitcases.

2. Pay Attention to All the Numbers
When you're looking at suitcases, you also want to look at all of the measurements, not just the height of the suitcase. 
If you research suitcases online, which is the easiest way to get the exact measurements of the luggage, you can find out the height, width, and even the depth of the suitcase. 
The latter may be the most important of all these numbers.
Even though you can't be positive that you've chosen the right suitcase until you get it home and start packing, luggage manufacturers' websites will give you enough detailed information to at least let you narrow down your choices to a few suitcases. 
It should be easy to decide how to proceed from there.

3. Features, Features, Features
When you're looking for the best size suitcase for 7 days trips, you have to consider the features that you want as well because these things make buying the perfect suitcase a lot easier to do.
Although the features you desire may be different than the next person's, making sure that you get the features you want is what's most important. 
Below are a few features that you should keep in mind:
3.1 The Wheels
Luggage pieces have either two or four wheels and there are advantages to each of these. Two-wheeled suitcases tend to be lighter and easier to guide the luggage in the direction that you want it to go. 
On the other hand, suitcases with four wheels stand upright better and you can move them sideways easily, which makes moving up and down the aisle of the plane much simpler.

3.2 Telescoping Handles
Let's face it; pulling a suitcase is much easier than carrying it. The handles attached to the luggage come in either single or double designs. 
The one you prefer is simply a matter of preference so you should check out both of these options before deciding which one to buy.

3.3 The Right Materials
Make sure that your suitcase is durable and comes with waterproof materials and a scratch-proof design if it is a hard-shell suitcase. 
The most common materials used for soft-shell suitcases are nylon, polyester, Ballistic nylon, canvas, leather, and Cordura. They are generally lightweight and flexible.
The most durable material used for hard-shell suitcases is aluminum, but it is very expensive. Therefore, many manufacturers produce hard-shell suitcases made of Polycarbonate, Polypropylene, and ABS.
The zippers should be very strong and sturdy and the side handles should be stitched properly so that they don't rip or tear easily. 
The best zipper in the market right now is YKK zippers. They are reliable and popular used in premium luggage.
The overall design should be one of superior quality so that it lasts for a very long time.

3.4 Security Locks
Many suitcases come with TSA-approved locks to keep would-be thieves away from them, which can give you a greater sense of comfort as you travel. 
If there are no built-in locks, you might want to consider adding a separate lock to keep your suitcase more secure.

3.5 Expandability
Many larger suitcases have this feature and it is perfect if you're one of the many travelers who love to pick up a few souvenirs (or more!) each time you travel.
Indeed, for travelers whose suitcases tend to pick up a little extra weight while they're on vacation, an expandable feature is what you want.
What is the Best Size Suitcase for 1 Week Trip?
A seven-day trip is considered a long one, which means that you'll need to pack close to a week's worth of clothing and toiletries before you go. 
Even if you plan on washing your laundry after several days, you'll still need room for toiletries and other belongings that must last for the entire week. 
Suitcases come in a wide range of sizes and one-week trips definitely require one of the larger ones to be successful.
Below are the lists of our recommended suitcases for your next trip:

Best Soft Shell Suitcase
IMAGE
SUITCASE
DETAILS
 

Small-Cabin Suitcase

Samsonite Underseat Carry-On Spinner

Size: One Size
Fits Under Most Airline Seats
Dimension: 16.5″ x 13.5″ x 9″
Built-In USB Port
Limited 3 Year Warranty

Large-Cabin Suitcase

Travelpro Crew Versapack-Softside Expandable Spinner

Size: 20″
Fits Laptops up to 15.6″
Dimension: 21.5″ X 14″ X 9″
Built-In USB Port
Lifetime Limited Warranty

Extra-Large Cabin Suitcase

Briggs & Riley Baseline-Softside CX Expandable

Size: 22″
Expandable up to 25% Storage
Dimension: 22″ X 14″ X 9″
1680D ballistic nylon fabric
Self-repairing YKK Zippers
Lifetime Performance Warranty

Best Checked-Medium Suitcase

Travelpro Platinum Elite-Softside Expandable

Size: 25″
Expandable Up to 2″ Additional Storage
Dimension: 25″ x 18″ x 11.2″
Self-aligning Magnetic Wheels
Built-in TSA Lock
Lifetime Limited Warranty

Best Checked-Large Suitcase

American Tourister Belle Voyage Softside Luggage

Size: 28″
Expandable Up to 1.5″ Additional Storage
Dimension: 31.5" x 19.5"x 13.2"
Single Airflow Spinner Wheels
Built-in TSA Lock
10 Year Limited Warranty
Best Hard Shell Suitcase
IMAGE
SUITCASE
DETAILS
 

Small-Cabin Suitcase

Vince Camuto Hardside Spinner Luggage

Size: 18″
ABS with diamond texture
Dimension: 18″ x 13″ x 8.5″
Four-wheel Spinner System
5 Year Warranty

Large-Cabin Suitcase

Samsonite Winfield 2 Hardside Expandable Luggage with Spinner

Size: 20″
100% polycarbonate material
Dimension: 20″ x 13.5″ x 9.5″
Built-in TSA Lock
10 Year Limited Warranty

Extra-Large Cabin Suitcase

American Tourister Moonlight Hardside Expandable Luggage

Size: 21″
Expandable Up to 1.5″ Additional Storage
100% polycarbonate material
Dimension: 22" x 15" x 9.5"
10 Year Limited Warranty

Best Checked-Medium Suitcase

Samsonite 24 Inch Winfield 2 Fashion Spinner

Size: 24″
Expandable Up to 1.5″ Additional Storage
Dimension: 27.0″ x 17.5″ x 11.75″
Built-in TSA Lock
10 Year Limited Warranty

Best Checked-Large Suitcase

Samsonite Omni PC Hardside Expandable Luggage

Size: 28″
Expandable
Micro Diamond PolyCarbonate Texture
Dimension: 30.5″ x 21.5″ x 13.5″
Built-in TSA Lock
10 Year Limited Warranty
One Week Away: Packing Tips
When you're planning to be away for an entire week, you have to be sure that you pack everything you'll need for the whole trip. 
After all, you'll need not just enough clothes but many other important items as well. 
If you feel overwhelmed and need a place to start, keep in mind the following tips in mind as you're packing:

Tips 1: Organizers/Cubes
If you have a lot of clothes to pack, you might want to consider packing cubes, which you can roll up after you pack the items inside so that they fit better in the suitcase. 
Packing cubes definitely help you fit a lot more items in your suitcase than you would otherwise.

Tips 2: 10 Pieces of Clothing
Yes, you can make do with 10 articles of clothing for your week-long trip if you try. Pack neutral colors and only a few bottoms so that you can mix and match and not wear the same combination twice. 
This packing tip truly works!
Tips 3: Don't Use Travel-Sized Containers
Avoid those three-ounce plastic bottles; instead, only bring the items you know that you'll need, in the exact amounts that you'll need. 
This way, you won't be bringing unnecessary items with you that take up unnecessary space in your luggage. Instead, you'll have just what you need and nothing else.

Tips 4: The Size of Your Suitcase
If you choose a smaller suitcase, you'll likely pack fewer items. When you know that you've only got limited space, you're more likely not to pack items that are truly unnecessary for your trip.

Tips 5: Learn the Kon-Marie Method
If you never heard about Marie Kondo before, she is a tidying expert, bestselling author of The Life-Changing Art of Tidying Up, star of Netflix's hit show, "Tidying Up With Marie Kondo," and founder of KonMarie Media Inc.
She introduces the Kon-Mari method, minimalism-inspired approach to tackling your stuff category-by-category rather than room-by-room.
Something you can apply when packing your clothes in a suitcase.
Final Thoughts
When you're researching the best size suitcase for 1 week trip, a lot of factors come into play but it doesn't have to be a complicated process.
It isn't just the size of the luggage that matters but also your ability to pack correctly and to determine which design, shape, and materials will best suit your needs. 
Of course, starting with the basics is always a smart idea so once you determine where you'll be traveling to and what time of the year you'll be away, finding the right luggage is a breeze.
Fortunately, finding great luggage doesn't necessarily mean that you'll have to spend a lot of money just to get what you want. 
Well-made, long-lasting luggage isn't always cheap but most of the companies that make luggage strive to offer competitive prices so that all customers, regardless of their budgets, will be able to find something they love and can afford.
One final tip, if you're traveling with family, it is worth considering buying luggage sets instead. It is cost-effective.
Related post: