Disclosure: Some of the links below are affiliate links, meaning, at no additional cost to you, I will earn a commission if you click through and make a purchase. – Thank you!
Best Laptop Backpack for Your Back
Yorepek Travel Laptop Backpack
The Yorepek Travel laptop backpack is extremely comfortable, the weight is distributed evenly enough that you don't feel the heaviness of the backpack. It has loads of space for EVERYTHING you may need to bring with you everywhere your go!
>> See pricing on Amazon <<
Carrying a laptop backpack incorrectly day in and day out causes strains, and most people use their head to counteract the weight. 
Choosing the right laptop backpack can make a big difference. 
According to back pain worldwide statistics, about 31 million Americans have suffered or experienced low back pain at any given time. 
In this post, I would like to share the best tips on how to find the best laptop backpack for back pain for you.
At a Glance: Our Top 5 Recommendations
How Do They Compare?
IMAGE
PRODUCT
DETAILS
 

BEST FOR TRAVEL

Yorepek Travel Laptop Backpack

Laptop Size: 17.3″  
Material: 1680D Water Resistant Polyester 
Capacity: 45L
Dimension: 19.29″ x 14.57″ x 10.24″
Weight: 2.5 lbs

BEST ORGANIZER

Incase Icon Pack

Laptop Size: 15″  
Material: 840D ballistic nylon
Capacity: 17L
Dimension: 13″ x 9″ x 19″
Weight: 1.74 lbs

BEST FOR ANTI-THEFT

Mancro Travel Laptop Backpack

Laptop Size: 15.6″  
Material: Polyester
Capacity: 26L
Dimension: 20″ x 13″ x 6″
Weight: 1 lbs

BEST FOR EVERY ACTIVITY​

Volher Laptop Backpack

Laptop Size: 15.6″  
Material: Polyester
Capacity: 31L
Dimension: 18″ x 13″ x 8″
Weight: 2.45 lbs

BEST VALUE BACKPACK

Amazon basics Travel Laptop Backpack

Laptop Size: 17″  
Material: Nylon
Capacity: 26.6L
Dimension: 12.5″ x 8.10″ x 19.2″
Weight: 2.5 lbs
Why Do Backpacks Cause Back Pain and Shoulder Pain?
1. Heavy Backpack
When you over packed your laptop backpack with a lot of stuff, chances are you will get very uncomfortable, and your shoulders start to feel the strain. 
When you wear it incorrectly on the shoulders, you will tend to bend forward your body to compensate for the unbalanced weight. 
When doing this in a prolonged period, the spine starts to compress.
As a result, the ligaments and muscles surrounding the spine are stretched and overworked while trying to compensate, leading to shoulder strain and back pain. 
Carrying a heavy backpack cause not only back pain and shoulder pain but also affect your body posture.
2. Carrying Your Backpack Wrongly
Many of us like to wear our backpack over just one shoulder because we like to think that it is cool and easier when in a hurry. 
However, when you wear a laptop backpack one-sided for a prolonged time, your body can end up leaning to one side to accommodate the unbalanced weight. 
This not only causes pain but also creating balance concerns that could lead to a fall. It is hard to reverse back the pain once it becomes your habit.
3. Poor Ergonomic Design
Poor design of laptop backpack can contribute to back pain and muscle strain.
If the shoulder straps are too narrow and not adequately padded, they can bite your shoulder and give you uncomfortable feeling around the neck. 
When the inferior straps compress the nervous system around your shoulder and at the back of your body, you will begin to feel tingling, numbness, and weakness.
What to Look When Buying a Laptop Backpack for Back Pain?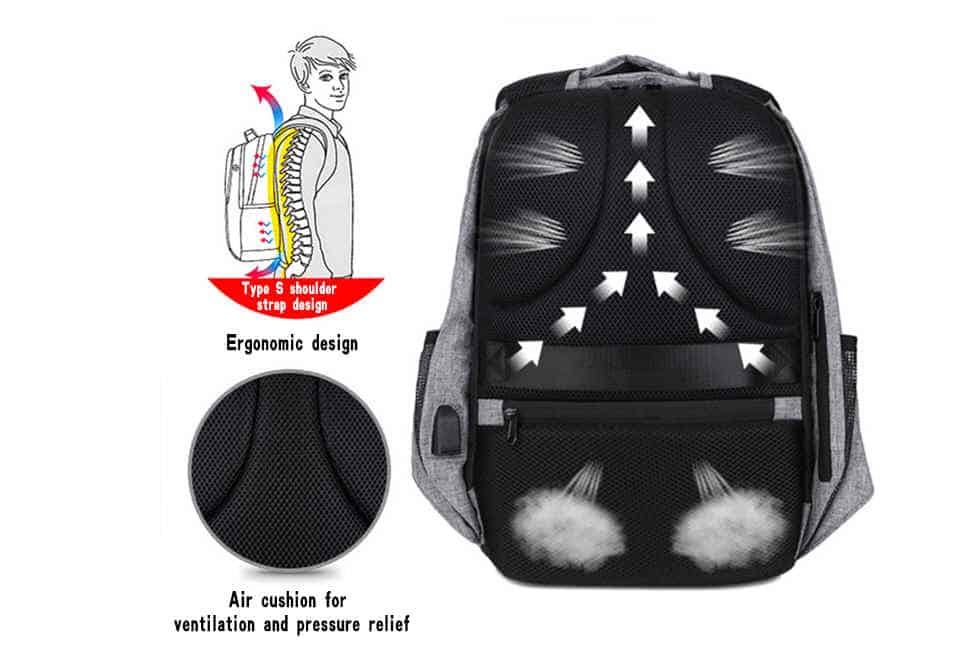 1. Multiple Compartments
To avoid or minimize the back pain, you need to have a proper weight distribution. To achieve this, you should look for a backpack that has multiple compartments. 
Most of the laptop backpack has a laptop dedicated padded compartment at the bag. 
A laptop is probably one of the bulky items that you carry around. Ideally, you want to keep your laptop closer to your back and let other small items equally distributed into other pockets. 
If the backpack is lacking compartments and pockets, chances are you will stuffing all your items only one-sided, resulting in a poor posture, discomfort, and potentially back pain.
2. Adjustable Features
When you're looking for a laptop backpack, you should look for a bag that has adjustable features like an adjustable shoulder strap, waist strap, and adjustable sternum strap.
Adjustable shoulder straps allow you to adjust your backpack fits snugly against the shoulders and just below the waist.
You want to make sure that you carry the bag as comfortable as possible by adjusting the straps.
The better the backpack fits, the lighter the load is to carry. If the backpack is too loose and away from your back, you will feel the increase of weight due to unbalanced weight distribution.
Another feature that the laptop backpack should have is the waist strap. The idea is that the waist strap can help to stabilize the balance of your body when carrying a heavy load.
The waist strap pulls the bottom of the back closer to your hip bones area.
Adjustable sternum strap, however, is not designed to carry any weight but to make it stay forward on the body. 
It also helps to ease the pressure on your shoulders as well as stop your backpack from falling right off and.
3. Well-Padded Shoulder Straps
When you carry a lot of stuff with a backpack straps with no padding, they will dig into the shoulders. It's going to give you a tense shoulder or a headache if you carry anything heavy on your shoulder. 
By having well-padded straps will undoubtedly help ease the pain. You should look for soft and comfortable straps, and the thickness of the straps doesn't matter. What matters is the quality of the straps. 
There are some thinner foams and super high-density straps that will you feel comfortable when carrying your bag. The width of the shoulder straps should be wide enough without biting into your shoulder. 
When it comes to gender, men typically have broader shoulders than women, and therefore, getting a wide shoulder strap is the right choice.
If you're a woman, slightly less wide should be okay as long as they are fit to your shoulder. If too narrow then it could lead to bruising and chaffing.
4. Lightweight
The weight of the backpack is an essential factor to consider when looking at the right laptop backpack for back pain. 
You should try to find a slimmer bag because it will feel lighter and be easier to manage with it closer to your back. 
A thinner and lightweight backpack is generally going to be a better center of gravity as compared to a thicker backpack where you will feel heavier.
The Best Five Backpack for Back Pain Reviews
1. Yorepek Travel Laptop Backpack
BEST FOR TRAVELING
Check Out More Great Features on Amazon >>
If you're looking for a bag with a large capacity with a ton of pockets, the Yorepek Travel Laptop Backpack is a good option. 
The main compartment has a very deep, huge and wide that you can pack a lot of books, clothes or documents wherever you go. The laptop compartment can hold up any tablet or laptop up to 17-inch. 
The backpack has comfortable features like breathable mesh shoulder straps with a plentiful of sponge pad that helps relieve the stress on your shoulders.
The shoulder strap is wide enough and adjustable for your comfort.
However, the bag doesn't have the sternum strap and waist strap, which could be handy to carry a large backpack like this. 
Also, it has a luggage strap that allows you to slide the backpack over the telescoping handle of your rolling bag. Technically, you release any burden off of your shoulder and the back of your body.
One of the coolest features of Yorepek backpack is the U-shaped three-dimensional ventilation design. 
This unique system is widely used in the building architecture for ventilation and has been applied to the backpack cooling system. It ensures for the air convection, ventilation, and heat elimination for your back.
When it comes to durability, the YOREPEK Travel Laptop Backpack is made from polyester fabric shockproof with high density nylon lining. 
It is a quite durable material, although not suitable for heavy-duty usage like going for hiking. The overall stitching quality is decent and could have been better. 
The material of the bag is water resistant as per claim, but I would like to advise you not to expose it in heavy rain for a long time without a rain cover. It works best in drizzle days.
If you're a frequent traveler, you would appreciate the ability of this backpack to unfold freely from 90 to 180 degree flat at the airport security checkpoint. 
Generally, you don't have to remove out your laptop, which ensures a quick scanning process. 
Last but not least, the bag is excellent for students and working professionals as you can charge your phone on the go with the USB charging port that it is provided. 
Just connect the power bank from the inside of the backpack and connect the cable to your phone from the outside. 
Pros
The shoulder strap is wide and well-padded
Generous storage with plenty of pockets
Can unfold at 90 and 180-degree
Has an external USB charging port
Cons
Don't have a sternum strap and waist strap
Stitching quality is decent
>> CHECK PRICE ON AMAZON <<
2. Incase Icon Pack
BEST ORGANIZER
Check Out More Great Features on Amazon >>
Incase Icon Pack from Incase is a popular backpack that is suitable for someone who is looking for a comfortable backpack to carry and stay organized.
It is perfect for both students and working professionals who want a comfortable bag.
If you have a back pain issue, this backpack offers an ergonomic design that will ensure comfort while carrying it. It features a large compression-molded back panel that provides air channels to cool your back down.
The shoulder straps are thick and well-padded and adjustable. It has the sternum straps as well to provide extra support when carrying a heavy load.
As mentioned before, the cool thing about the Icon Pack is that it has a ton of organization pockets. It features three dedicated compartments for your electronic devices. 
The bag has a  dedicated compartment for MacBook Pro 15-inch (also fit any similar size of other laptops) that can be accessed from the back.
Construction-wise it is made of durable 840D ballistic nylon that well known as heavy-duty material and water-resistant. It is very well made and looks solid.
Although Incase Icon Pack is a great backpack, there are some drawbacks to this backpack. Firstly, is that it doesn't offer any external water bottle holster.
Secondly, having a lot of pockets means there isn't much room to put anything large or extra clothes for traveling.
Pros
Tons of pockets
Durable and water-resistant material
Ergonomic design for back support
Cons
No water bottle holster
Might be hard to squeeze in a large item due to tight fit
>> CHECK PRICE ON AMAZON <<
3. Mancro Travel Laptop Backpack
BEST FOR ANTI-THEFT
Check Out More Great Features on Amazon >>
The Mancro Travel Laptop Backpack is an excellent choice for those who have back pain because it is a lightweight, compact, and slimmer in design. 
What I like about the appearance of this backpack is that it looks clean, minimalist, and stylish without being too pricey.
Despite its slimmer size, the main compartment has a great number of spaces to carry your laptop, tablet, books, cables, etc. 
There are plenty of zipper pockets and open pockets inside the backpack and the front pocket to organize your small items. 
The two mesh pockets on both sides of the bag are great for carrying a water bottle or umbrella.
One separate laptop compartment can comfortably hold any laptop size up to 15.6-inch. It is well padded and comes with a Velcro strap to hold your laptop in place.
As for the comfort features, the Mancro travel laptop backpack offers the two "s" Curve padded shoulder straps for lightweight carrying. 
Both shoulder straps and handler have to cushion and mesh material that makes you feel comfortable to carry the bag around. 
The backpack comes with multiple awesome technologies like RFID blocking pocket, Anti-theft metal shackles, and USB charging. 
One interesting thing I like to highlight is that despite the water is claimed as water repellent, and there is a mixed response from the users. 
The backpack might be good to use in drizzle day but not in heavy rain.
Although the backpack doesn't have a unique feature of a ventilation system like the Yorepek laptop backpack, it is still a good bag for your back and shoulder, thanks to its lightweight. 
The Mancro Travel Laptop Backpack is an excellent back to carry your books and other essential items to school, work, or travel.
Pros
The shoulder strap is wide and well-padded
Lightweight and slim
Plenty of zipper pockets and open pockets
Cons
The quality of the zippers is decent
>> CHECK PRICE ON AMAZON <<
4. Volher Laptop Backpack
BEST FOR EVERY ACTIVITY
Check Out More Great Features on Amazon >>
Volher Laptop Backpack is a very elegant backpack that stands out when it comes to providing maximum comfort and back support. 
The backside of the bag has thick and soft multi-panel ventilated padding that creates a gap in between your back and the bag for air flow.
The shoulder straps are padded and adjustable, but it doesn't come with sternum strap. 
The bag has enough storage to keep your items with one separate laptop compartment that can fit up to a 15.6-inch laptop.
It has the right amount of zipper pockets and slots inside the main and front compartment for small items.
The external pockets on both sides are made of elasticized mesh that expands to secure various size water bottles and a small umbrella. 
Although the material is made of water-resistant fabric, I would not encourage you to wear it on a  rainy day because the bag doesn't have flaps to cover the zippers to prevent water seeping inside. 
The pulls on the zipper are metal, but the quality of the zipper is average. It has a lot of cool features like an anti-theft back pocket, a USB charging port, and a luggage strap. 
What I really like about this backpack is that it comes with a headphone port that allows you to listen to your favorite music or podcast on the go.
Pros
Comfortable airflow back design
A lot of convenient features
Nice looking backpack
Cons
>> CHECK PRICE ON AMAZON <<
5. Amazonbasics Travel Laptop Backpack
BEST VALUE BACKPACK
Check Out More Great Features on Amazon >>
Amazonbasics Travel 17 Inch Laptop Backpack is a large, spacious, and lightweight that can hold up to a 17-inch laptop.
Unlike other sophisticated laptop backpacks, this backpack from Amazonbasic is relatively basic that does a good job carrying your laptop around.
What makes me pick this bag for review is that it has ergonomic features that are suitable for those who have back pain and shoulder pain problems. 
The shoulder straps and back area have enough padding for back support. In addition to that, there is a waist buckle to support lower back health.
As for the storage, the laptop compartment has separated access and zipper with two different slots to put your devices. 
The large slot can fit up to a 17-inch laptop while the small one could fit a 10-inch tablet. The bag is TSA checkpoint-friendly where you can lay flat the laptop section for security screening. 
Other than the laptop compartment, the backpack has one main compartment, two side compartments, and a front pocket. 
The zippers are easy to pull open, but the quality is not great. If you are fully loaded, there is a chance the zippers can open itself.
As I mentioned early, then it is a simple bag and doesn't have cool features like USB charging port and RFID blockers. This laptop backpack is suitable for business trips and leisure activities.
Pros
Comes with a luggage strap
Ergonomic back support
Anti-theft zipper pouch at the back
Quality zippers and stitching
Cons
Lack of small pockets and slots
No RFID feature
>> CHECK PRICE ON AMAZON <<
The Verdict
There are so many types of laptop backpacks and so many brands to go along with it that it can be an overwhelming decision to choose just one.
Hopefully, this post has helped ease that decision a bit for you. 
For me, one of my favorite laptop backpacks that helps you relieve the back pain is the Yorepek Travel Laptop Backpack. 
It offers a unique U-shaped three-dimensional ventilation design, a ton of storage, fancy additional features, and TSA checkpoint friendly.
Finally, one piece of advice here is that no matter which backpack you buy, never overload a bag.
As a rule of thumb, never carry the bag more than 15%-20% of your body weight.