Disclosure: I mention some products that I'm an affiliate for is this post. If you buy via my link, then I get a commission — thank you!
If you are in a hurry and just want to find out what the best concealed carry backpack is, then we recommend the 5.11 Tactical Military Backpack (Rush 12) as the best one. It comes from quality materials, lightweight, comfortable, and offers the versatility you want.
Have you come across those backpacks that scream "I'm carrying a gun"?
You don't need them; instead, you need a concealed carry backpack. 
This will protect your privacy and keep items safe without compromising your movement.
I have been using several backpacks, and here is a review of the top 5 Best Concealed Carry Backpacks.
At a Glance: Best Concealed Carry Backpacks 
What To Look For In A Concealed Carry Backpack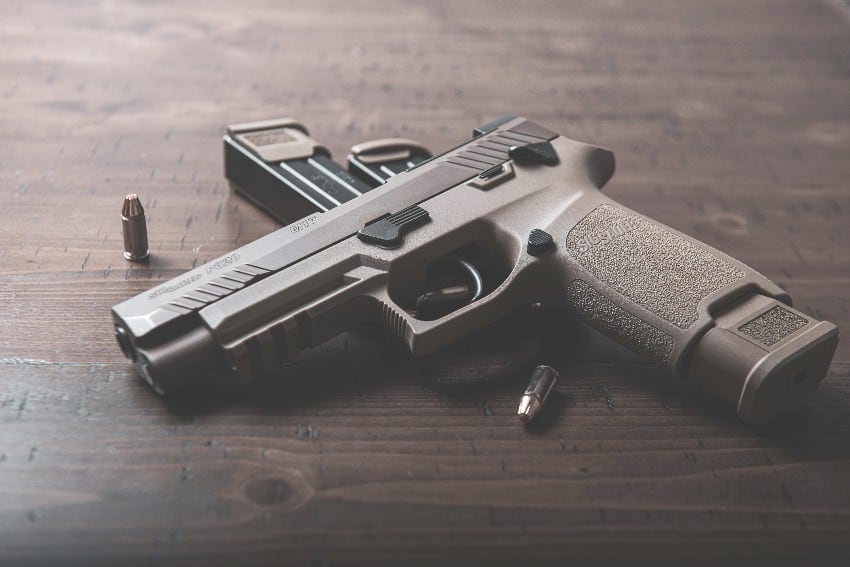 Perhaps you want to purchase a backpack for storing your concealed item. 
This is likely to be an uphill task considering the hundreds of products online. 
I remember my first backpack was a total flop. 
I went for the looks and forgot the features. 
Below, I have shared some of the things to look out for before investing in a concealed backpack.
Durability and Quality
This should be the first consideration before walking away with that concealed backpack. You need something that will show value for money. 
Therefore, having a high-quality backpack from superior materials will work well.
In most cases, quality backpacks come from leather, polyester, and plastic. 
They are crafted to last you for ages and eliminate the frequent replacement after a short period. 
Also, the zippers should be metal types and probably lockable to hide your essential items. 
How long do you want the backpack to serve you?
The Size
You want to conceal the weapon. First, think about the size of your weapon. 
You will have a rough idea of the precise backpack you need for it. 
Therefore, it's vital to have the exact measurements of your gun. 
If not, you risk getting an oversized or undersized backpack. 
Sometimes we have sellers who don't take returned items. 
What will you do if you have an oversized or undersized backpack? 
Avoid this and have the measurements with you.
Versatility
You want a backpack that will serve more than carrying your firearm. 
Maybe you have a laptop or tablet, and you want to bring it along. 
Eventually, you will need a concealed backpack that can accommodate more valuables. 
If you get a unit that can easily fit a 15" laptop, then it is a thoughtful idea. 
Versatility and size go hand in hand.
Ease of carrying
Most backpacks were designed to mount on your back and go. 
This calls for extra-tough straps. Besides, the straps should have comfortable padding for you to spend the entire day having it on your back. 
Also, some backpacks have top handles to make carrying easy.
Budget
How much are you willing to spend on a backpack? 
With this question, you can find out the budget you have for the backpack. 
Luckily, the market will always have something for you. 
So do not overstretch. 
There are plenty of backpacks that meet your requirements yet affordable. 
But, if you are pressed to have a high-quality backpack beyond your budget, then you can still wait for an offer or a discount that comes often.
Warranty
Is the manufacturer ready to stand by you? 
Well, this is where you require details about the warranty and whether it's a limited or unlimited type. 
Warranties between one month to one year are good. 
Even so, the ones with unlimited warranties are better than the limited ones. 
So choose the warranty you prefer from the backpack.
The 5 Best Concealed Carry Backpacks Reviews
The market has plenty of concealed backpacks. This means that you will always find a backpack for your purpose. 
Now, the trickiest part is finding a suitable backpack. 
Remember, not all manufacturers deliver quality. 
We have the following 5 best conceal backpacks for you. 
We narrowed down from researching through hundreds of backpacks. 
Let us see what each has to offer you.
5.11 Tactical Military Backpack (Rush 12)
Best Portable Backpack
>> See pricing on Amazon <<
If you are in the military service or just a civilian, then this backpack works for everyone. 
It is a 24-liter capacity hence small enough to fit on the back. It comes from high-quality 1050D Nylon, therefore durable and easy to clean. 
Besides, the materials make the backpack lightweight, thus portable.
Furthermore, the YKK Zipper closure improves the security of the items inside the unit. Note that the backpack features 16 compartments, so every item will have a room for storage. 
This makes it easy to locate whatever you need.
The type is easy to carry since it features a well-padded shoulder strap system and a top handle. 
Therefore, once it's packed, you can now move with ease and for longer distances.
Overall, this backpack is a friendly type when on patrol, outdoor hiking, trekking, camping, survival expedition, or a casual day out.
Here is the video of the real user had to say:
Check out this bag on Amazon now
Pros
Has 16 compartments
Made from quality materials
Features zipper closures
Cons
It's too small, and some of your items might not fit.
>> CHECK PRICE ON AMAZON <<
G.P.S. Handgunner Backpack
Best Model With A Virtual ID Storage System
Here is a conceal backpack with slides that move in and out. The compartments hold up to 4 handguns. 
Also, the high-density foam storage cradle slides move quickly for quick access to the guns.
This backpack crafts from quality Nylon hence durable and waterproof. 
Once the guns are in the slides, you can walk through showers of rain and still find your guns dry.
The model also has a virtual id storage system where you can quickly locate the storage of your different items. 
This encourages quick access to any item you want to use.
In conclusion, this model has a well-thought design hence remains on your back all through the trip.
Here is the video of the real user had to say:
Check out this bag on Amazon now
Pros
Made from quality nylon hence durable
Lightweight and portable
Easy to locate the components in the compartments
Cons
>> CHECK PRICE ON AMAZON <<
Maxpedition Falcon-II Backpack
Best For Extra Storage
>> See pricing on Amazon <<
Everything on this backpack is adjustable. I like the shoulder straps with an adjustable length for a perfect fit. 
Also, the external PALS webbing worked well, as I could attach a few items on it. This offered extra storage.
The backpack is a 23-liter volume hence enough to carry your handgun and a few essential items. 
Additionally, the quality of this backpack is incomparable. It comes from high-quality ballistic nylon fabric which is water and abrasion-resistant. 
Be ready to have the backpack for years.
Also, the zippers have the best quality, and once you store the handgun and zip, you are sure to cover miles while it is intact.
In conclusion, this backpack can work well in varied roles other than carrying your gun.
Here is the video of the real user had to say:
Check out this bag on Amazon now
Pros
Made from quality nylon hence durable
Water and abrasion-resistant type
23-liter capacity hence enough for storage
Cons
Features an awful chemical smell which fades off after several usages
>> CHECK PRICE ON AMAZON <<
Case Club Tactical 4-Pistol Backpack
Best For Attaching Extra Gear
>> See pricing on Amazon <<
This is a concealed backpack for your four pistols up to 8 5/8″. It has a form-cradle slide section to keep each gun separate. 
Besides, it is a hands-free operation type as you tack it to your back and move, thanks to the available straps. 
Also, the twin side pockets offer extra storage.
It also has a pull-out rain cover. This protects the gear when there is an emergency downpour. 
In addition, you can still attach extra gear to your backpack for additional storage. 
This ensures that you carry every essential thing with you.
Finally, the unit comes from quality materials hence durable. 
You are sure to get the value for money with everyday use.
Here is the video from Case Club:
Check out this bag on Amazon now
Pros
Has a waterproof cover
Features straps for easy attachment
Holds a maximum of four guns in the gun compartments
Cons
It is small, and a big guy will not like it.
>> CHECK PRICE ON AMAZON <<
American Rebel Tactical Concealed Backpack
Best For Water-Resistance
>> See pricing on Amazon <<
Our final backpack is the American Rebel.
It is medium freedom back that suits everyday operations. 
Also, the backpack features plenty of pockets and storage compartments with zipper closures. 
You are sure of safe storage while on the move.
You can also tuck in your 15-inch laptop and use it wherever you want. 
This extra storage makes the backpack a unique type for you. 
The top handle and shoulder straps come in handy during transportation. 
I like the fact that the backpack allows you to access the firearm within seconds hence great during an emergency.
Finally, it comes from water-resistant high-grade materials. 
This is safe during a downpour. 
Above all, it assures you of durable and long-lasting use.
Here is the video of the real user had to say:
Check out this bag on Amazon now
Pros
Has plenty of storage space for use
Has zipper closures for secure storage
Excellent design hence stylish
Cons
The top handle isn't a high-quality type
>> CHECK PRICE ON AMAZON <<
Conclusion
The Best Concealed Carry Backpacks reviewed have what it takes to conceal your items. 
Worry less when you have one from this list because we took time researching before we settled on the five items. 
However, I still found the 5.11 Tactical Military Backpack (Rush 12) as the most promising among the five. 
This is because it comes from quality materials and offers the versatility you want. 
Nevertheless, it is lightweight and comfortable to carry on the go. 
I would recommend it to any outdoor enthusiast who values the safety and privacy of their items.
Once you locate your backpack from the list, then let us know how it is serving you. 
But, if you have concerns, then feel free to share them with us. We are ready to help you through it.
Related posts: